Annual Reports
The annual reports of CIMMYT and the CGIAR "Maize" and "Wheat" Research Programs provide an overview of institutional goals, finances, the big issues we address through research, development, and training, and accounts of outputs and achievements.  You can click on the titles below to view the most recent numbers, or enter our publications repository to find older reports.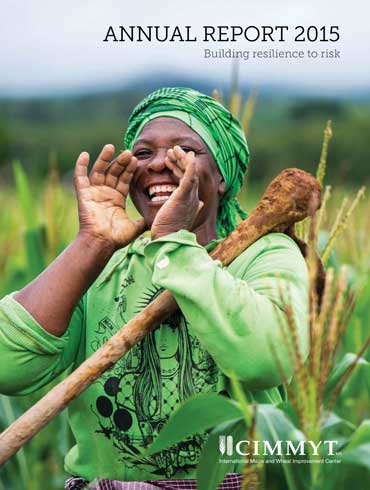 CIMMYT Annual Report 2015:
Building resilience to risk
Crucial funding from CGIAR Fund Donors and other generous supporters allows the International Maize and Wheat Improvement Center (CIMMYT) and its partners worldwide to offer farmers in developing countries innovative technology and knowledge. Through this work, farmers are better equipped to address the shocks of shifting markets, climate change, rising grain demand, land degradation and resource scarcities.
At stake are nothing less than local food security and nutrition and the capacity to feed a global population of at least 9 billion by 2050.
---